Gamers collect coins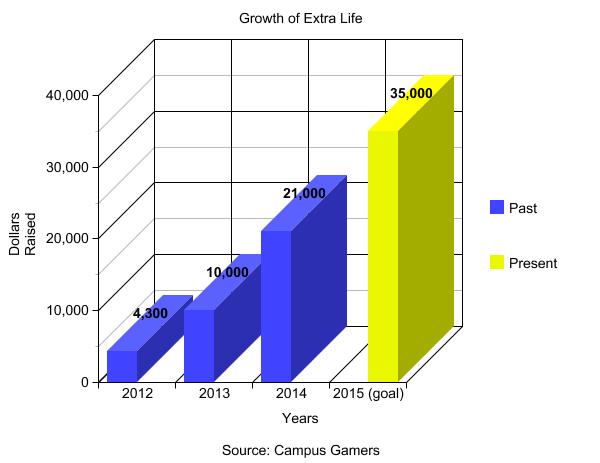 Patricia Rocha
November 3, 2015
Filed under Features
Hang on for a minute...we're trying to find some more stories you might like.
News Editor
The fourth annual Extra Life fundraiser hosted by CSU Bakersfield's Campus Gamers hopes to save lives through gaming.
The Extra Life program is similar to signing up to run a 5K, explained Student Organizations and RunnerSync Coordinator Ed Webb: people register and have others donate on their behalf.
"When the day comes, instead of running around a track, they play games," said Webb. "What games they play and how long they play is entirely up to them."
The event is scheduled for Saturday, Nov. 7 from 9 a.m. to 9 p.m. both in the Student Union and DDH and all proceeds benefit the Lauren Small Children's Medical Center. A $20 donation allows students to register to play over a thousand video, board, card and tabletop games spanning multiple genres and interests.
"If you compare that to going to a movie: you go to a movie, you buy a coke and a popcorn and you're out $20, but here you get 12 hours of fun," said Webb. "A lot of it is stuff you can't get anywhere else."
Over the past three years, both participation and fundraising has exceeded expectations.
"Our Extra Life's participation is unique in that it serves two purposes: it raises money for the children's hospital but it also provides a very fun, engaging event for students on campus," Webb said.
In its first year, there were 80 participants who raised $4,300 over the course of a year.
Last year, 400 participated and raised $21,000, totaling 87.5% of the children's hospital's overall fundraising efforts.
The CSUB group also finished 20th out of 6,200 teams participating across the nation.
"Our event, where we had everybody raising money for the same hospital, all participating in the same location, was the largest of its kind anywhere, and this year's is going to be bigger," he said, citing the over 1,070 people that have already signed up.
Webb was proud to share the details of the upcoming event and the lasting impacts of the previous ones.
He said the children's hospital long had plans for a children's emergency room, but lack of support funding prevented anything from moving forward.
"The money that we raised last year put them over the top of [their] goal so that they were able to break ground on that new emergency room," he said. "So 2016, they're going to open that…They're going to save some kid's life because of the money we raised. So as fun as it is, that's the most important thing."
This year's goals are even higher than those before it.
"What we have told the hospital is that our goal is $30,000, and if we raise an additional $4,000 above that, we'll purchase a mobile gaming cart for the new emergency room," he said, though $35,000 would be the ideal.
If the all-day gaming and goodwill weren't enough to entice students to participate, cosplay participants and every $10 fundraised gets someone a ticket to win multiple prizes.
The first 100 people to raise at least $100 will receive a goody bag filled with $100 worth of items as well as the chance to win an Xbox One console. Many gift cards, expensive donations and collectibles will also be available as prizes, with a special item among them.
"One of the things we had donated was a one of the little Nintendo 3DS Zelda units that's going for $400 on eBay right now," he said. "You can't buy one anywhere right now. We've been sitting on it for months so that we could use it as a prize for this event."
Overall, Webb is excited about the impact the event has on CSUB school spirit and community efforts.
"We had somebody last year who has been on campus for eight years tell me that it was the single coolest thing he's ever seen on campus," said Webb.
For students that are looking for something to do, they're not going to beat this one. If they miss it, they will be kicking themselves for an entire year as all of their friends talk about how fun it was."