Students educate each other about sexual ethics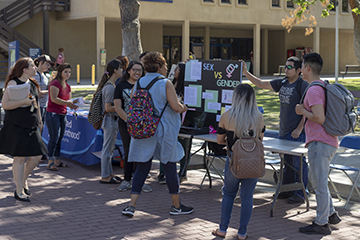 Sarah Jane Atkinson, Reporter
May 2, 2019
Hang on for a minute...we're trying to find some more stories you might like.
Representatives from many associations on and off campus lined the Red Brick Road to promote safe, consensual and ethical sex on April 25.
CSU Bakersfield students and staff were given the opportunity to learn the ethics of sex at the third Sexual Ethics Fair.
Hosted by Club Gen in partnership with their advisor Debra Jackson, the Sexual Ethics Fair includes a number of booths that provide information regarding sexual education. The first fair took place in spring 2018 and the second took place in the fall of 2018.
Professor Katy Hanson's Philosophy 2329 Sexual Ethics class was among the many booths included in the fair. The students in the class all provided interactive booths regarding a range of topics, from STD's to sex trafficking to Bondage and Discipline, Sadism and Masochism. The students all had a mutual goal of informing the campus and raising awareness about all the different types of ethics included in sex.
Describing one of his reasons for being at the fair, freshman biology major, Antonio Mateiro said, "In one short word; awareness." Mateiro was one of the students providing information on sex trafficking.
"I come to find that students coming into the classroom don't know a lot about issues that can really affect them," said Hanson.
Hanson's goal was to provide her students with the information about sex that they didn't know in which they could then share with other students who were unaware.
"It opens up a conversation about topics surrounding sex that we often think are taboo and we don't always feel comfortable talking about and these students really get a lot out of being able to teach what they've earned in the class and pass it along to other students," said Hanson.
As co-founders of the fair, Club Gen had their booth out at the fair as well, which also included a raffle for students. Club Gen president Samantha DeLaCruz mentioned that the fair is actually a grant funded event now.
"It's important to have open conversations that are honest and inclusive about sex. It's not about trying to deter someone from having sex or to promote sex, it's about respecting what their choices are and whatever boundaries they have," said DeLaCruz. "And letting them know 'Hey whatever sex means to you, as long as it is healthy and positive that's okay.' We want to make sure we are spreading these messages."