Students and campus rally for homecoming court, prizes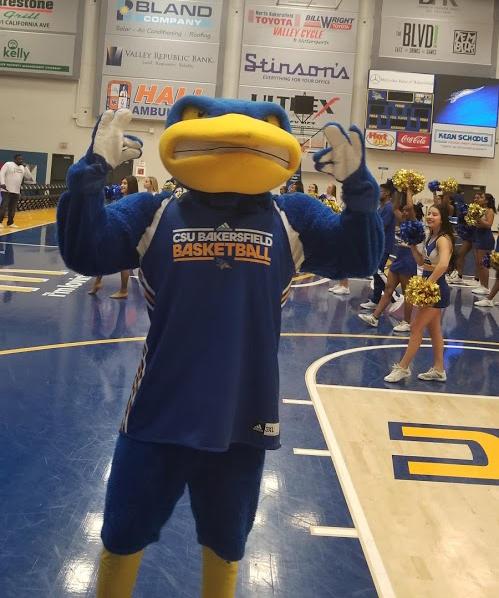 Sam Underwood
February 22, 2019
Filed under Features
Hang on for a minute...we're trying to find some more stories you might like.

Reporter

It was easy to get caught up in Runner school spirit at the pep rally homecoming week.  Pom-poms waived, pep band music filled the air, and shouts of "go Runners" could be heard over the crowd. The pep rally took place at the Icardo Center, Thursday Feb. 21. Arthur Smith, CSU Bakersfield's spirit coordinator, led the rally.
The rally started off with a chicken toss game where four contestants were picked from the crowd and had a chance to win a bag of prizes. The CSUB mascot, Rowdy, threw rubber chickens high in the air while the contestants tried to catch them with laundry baskets. Contestants caught and lost chickens as they scrambled around the basketball court trying to predict Rowdy's next toss. In the end, one contestant stood out above the rest with five chickens in her basket. Senior Xocee Smith, a psychology major, was the winner and received the gift bag of prizes.
Smith assured everyone that, "no chickens were harmed in the chicken toss game," he said.
Also, in attendance was staff from The BLVD, giving out prizes and free game cards. They were given a chance to announce their new college night specials for every Wednesday night.
Originally, the pep rally was supposed to have a lip-sync battle where groups and individuals could display their lip-sync skills. Unfortunately, according to Smith, there was only one group that had signed up for the competition. Due to the lack of interest, the competition was cancelled.
In lieu of the lip-sync battle, the freshmen, sophomore, and junior, homecoming court winners were announced throughout the rally. As well, the finalists for homecoming queen and king were announced.
This year's homecoming Freshman maid is Serenity Sanchez. The Freshman squire is Martin Navarro Jr. The Sophomore duchess is Leslie Perez, and the Sophomore duke is Quinn Kelly. Junior princess is Ebony Harrison and the Junior prince is Aaron Wan.
Finally, the runners-up for homecoming queen and king were announced. The two runners-up of homecoming queen are Leigh Whitson and Morayo Olujumu. The two runners-up for homecoming king are Deon Danehy and Vanessa Zepeda.
The winners of homecoming queen and king will be announced Saturday, Feb. 23, at the men's basketball game during halftime.
The rally ended as the pep squad led the crowd in singing the school's alma mater. Everyone sang as they held their hands high to display the school's hand gesture.