Runner Nights Fall 2017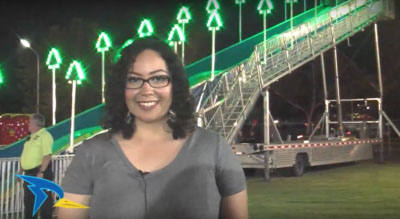 Hang on for a minute...we're trying to find some more stories you might like.
Runner Nights
The Runner Multimedia
We're here at the third annual Runner Nights hosted by Campus Programming where CSUB welcomes freshman, transfer students and returning students.
The carnival provided games, rides and a DJ.
Mohammed Cook, a senior business administration major and ASI Vice President of Campus Life, explains the purpose of Runner Night.
"The purpose of this event is to bring all the students together in a very causal, social environment. Sometimes school kind of leads us to want to be in these academic, kind of tense moments and we needed something to unwind everybody's mind, coming out of summer to start the school year fresh," said Cook."
Students enjoyed the festivities by eating, participating in the activates and by getting dunked in a water tank.
Volunteers are at the event to promote their clubs and organizations for students.
Selina Galvan, a senior business administration major, promoted the University Accounting Association and explains why she volunteered at Runner Nights
"I decided to volunteer because I love my university. I want to tell the students who we are, we are the university of accounting association and we want everyone to join accounting. Accounting Power!" said Galvan.
CSUB students Brenda and Katie describe what they thought about the event.
"So far we like it. We all feel together and everyone is enjoying themselves," said Katie.
"I like the food," said Brenda.
"I like the energy. Everyone's having fun, no one is feeling down," said Katie.
The third annual Runner Nights Carnival was a success.
For Runner News Network, I'm Sandy Ornelas.